BabySteps Swim Program
from birth to 3 years
Our BabySteps Swim Program has got everyone talking ….. it's so popular!
Hampton's BabySteps Swim Program give babies and toddlers a gentle, positive introduction to the water, incorporating water familiarisation and awareness plus the confidence and skills to be safer in and around the water, in a manner that babies learn best by – BabySteps!
Parents love the structure and progression of our BabySteps Program – as your child works through our gradual 24 week program, parents will see weekly progressions and improvement that delivers quality results and super happy swimmers! And of course baby acquires the skills from this program they need to start their learn to swim adventure as they gain confidence to manoeuvre through water independently for several metres in the correct body position!
Every activity in our BabySteps Swim Program has a purpose and a progression. By the end of our 4th BabySteps Swim Program level, your child will have completed a gentle and happy transition to participating in a lesson without their parent/carer in the water, ready to learn directly with our teaching team members……of course this is not the end…..it's just the beginning!!
Hampton Swim School's BabySteps Swim program consists of the following 5 levels:
Click HERE to learn why Baby Swimming is so important!
---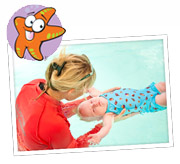 BabyBegins
From Womb to Water….
BabyBegins lessons are Australia's first swim classes for babies from birth to 3 months, specialising in infant aquatic beginning and a baby focused experience that new parents can share
Hampton Swim School is renown for its child centred philosophies, having a major focus on a child's age and stage of development, and linking these with our unique BabySteps program activities.Our BabyBegins classes aim to introduce new parents and their babies into the wonderful world of water, and provide an intimate bonding experience through gentle, teacher-led activities.
We wanted to share the joy parents can have participating in water activities with their newborns; for parents to be educated on how the water can attribute to their physical, social, emotional aspects and babies' development in terms of facilitating their land based progress including sleep and feeding.
BabyBegins classes are not just about water safety – actually this just a small component of the program. BabyBEGIN's is a positive, calm and gentle introduction to the water – actually – we should say 'reintroduction' to the water, as they have recently exited the watery environment of the womb.
We know from experience how calming the water can be to a young infant, and with the right environment to operate these classes in, our 20 minute classes also provide a supportive social environment for new parents.
---
Starfish
Our Starfish level provides a wonderful introduction to the joys of aquatics and water familiarisation for 3-9 month olds. Using gentle, progressive water based activities that also assist in strengthening the bond between parent and baby, parents will marvel at how much their baby learns. Parents also love learning how to teach their baby to enjoy their aquatic experiences through quality instruction and education from our specialised Infant & Babies swim teachers.
Class sizes are capped at a maximum of 7 babies.
---
Jellyfish
Once between 10-16 months, our Jellyfish program enables development of water awareness and confidence through aquatic activities that will challenge and delight your bub! As your child becomes more mobile, our program progresses consistently to meet their changing physical and emotional needs. Focus at our Jellyfish level is on your baby feeling relaxed and comfortable in the water, leading to increasing independence, gaining distance through submersion swims and improved respect for the aquatic environment through the learning of safety activities.
Classes are capped at a maximum of 7 babies.
---
Turtle
For those toddlers between 17-30 months in our BabySteps Swim Program, safety is an important component of their Turtle's lessons. This age bracket is frequently inquisitive and fearless; not able to comprehend the consequences of their actions. Our Turtles program allows your child to explore and develop their aquatic capabilities and boundaries through structured, challenging activities, that also incorporate social aspects to allow for their developing learning and social needs.
Classes are capped at 7 swimmers.
---
Penguin
Our Penguin swimmers are between 2-3 years of age who have achieved previous BabySteps levels at Hampton Swim School. Penguins are confident, strong, independent swimmers, who are working towards being solo in the pool without their parents' assistance – ready to learn from our teaching team members. By the end of Penguins (and our BabySteps Swim Program!) your child will be able to manoeuvre a distance of 5 metres across the pool, being comfortable with rolling over to get their breath, before continuing to find the safety of the pool ledge.
During this unique transition stage, our classes are capped at 5 swimmers.