Hampton Swim School and Early Start Australia (previously known as Gateway Therapies) have collaborated to develop this program designed to help children with Autism Spectrum Disorders to access effective and specialised swimming lessons.
The program has been developed using best practice principles and utilises a multistep approach to introducing children on the spectrum to learn to swim classes.
Children with autism are often drawn to water, but can find participating in lessons very challenging for many different reasons. The Treasures Program is designed to help children with autism learn to swim, to enjoy the water, be safe, and enjoy the many benefits swimming has to offer.
WHO DEVELOPED THE TREASURES PROGRAM?
The program participants will benefit from the combined experience and expertise of Director of Hampton Swim School, Julia Ham and Director/Practice Principal of Early Start Australia, Nicole Grant.
Nicole is an occupational therapist who has submitted a PhD thesis that focuses on helping parents of children newly diagnosed with autism to make intervention decisions. She owns and manages Early Start Australia in Murarrie, which specialises in helping children with autism.
Both Directors are parents and passionate about helping families to get the most out of life.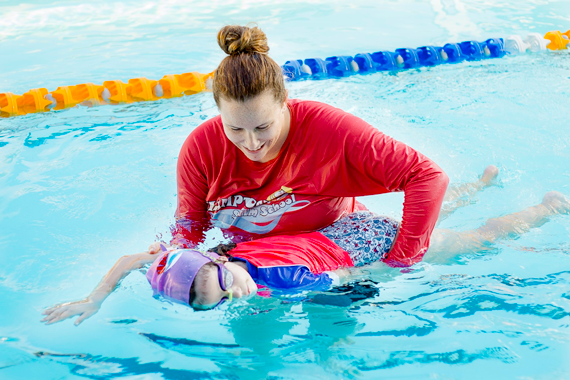 HOW DOES THE PROGRAM WORK?
The program is a multi-stepped process designed to ensure your child is well prepared for lessons, and the ensure the swimming instructors fully understand your child's needs before they even get into the water.
Complete the Treasures Program Parent Questionnaire either via email or in person. This questionnaire can be requested from either the office of Hampton Swim School or Early Start Australia. This form will be used to determine your child's eligibility for the program.
Contact Early Start Australia on 07 3398 9367 to book in your consultation (phone appointments can be organised so there is no need to attend their clinic). The aim of this consult is to discuss with you your child's needs specific to his or her participation in the program. Your goals for lessons are established, and you will be provided with a Treasures Program Pack, that includes everything you need to help your child prepare for the adventure ahead. Following this consult, Early Start Australia will prepare a summary report for you and your Hampton Swim School instructor.
That's it! It's time to get started. Contact Hampton Swim School on 07 3399 2004 to book your child into one of the Treasures Program sessions. You are encouraged to also make a time to take your child to the pool to show them where they will be visiting for their lessons before they attend their first lesson. Depending on your child's needs, you may wish to purchase ear plugs, ear band, and/or tinted goggles for their lessons. You will have discussed this with an OT at Early Start Australia. Swimming caps are compulsory. If your child does not generally tolerate swimming caps, you can discuss this with your Early Start Australia therapist.
| | TUESDAY | SATURDAY |
| --- | --- | --- |
| Instructor | Early Start Australia's Occupational therapist and qualified Swim Instructor | Hampton's Swim School Swim Instructor with additional autism-specific experience and training |
| Funding (if eligible) | Private Health, Helping Children with Autism (HCWA), Better Start and NDIS | Check with your funding provider |
| Group size | 3 | 3 |
| Session length | 20 minutes | 20 minutes |
| Cost: Initial Intake Interview and Brief Report (once off) | $198.98 | $198.98 |
| Group lesson (per week) | $55.27 | $55.27 |
| Private lesson (per week) | $123.66 | $123.66 |