Welcome to Hampton Swim School! My name is Julia and I am the founder of the school. What I love about our swimming community is how, after more than 20 years, Hampton Swim School is still all about our families. We pride ourselves on a gentle, nurturing approach to learning where achievements, no matter how small, can be celebrated.
When I started our swim school, I was an international competitive swimmer with a passion for aquatic education.
These days I am a local mum of three and more motivated than ever to give children in our community a lifelong love of water in the safest of hands. Every child is unique, and our programs will help your child develop the confidence and skills needed to be safe and happy in the water. We work with newborns, teens and everything in between from our two locations in Cannon Hill and Morningside. We also offer classes for adults.
My team of loyal and much-loved teachers and I are looking forward to meeting you!
"The teachers are all so friendly,
encouraging and knowledgeable"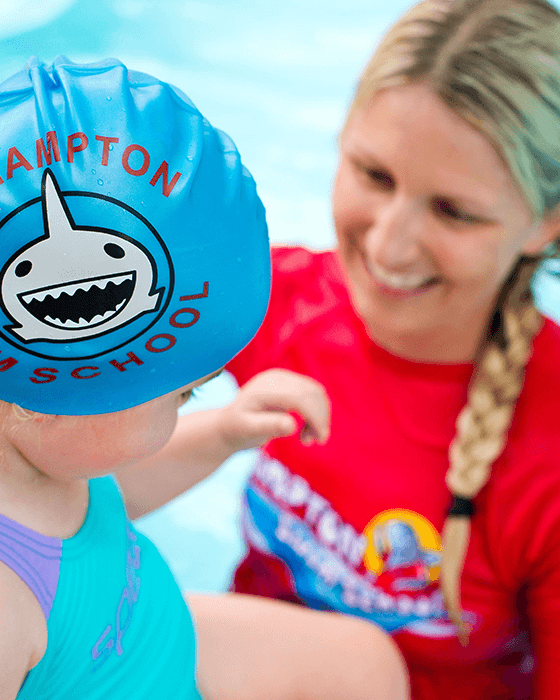 We have a program for every child in our community. We are unique in offering free swimming lessons from BIRTH to 6 months. If you have an older child who is afraid of water, let us help you make him or her a Happy Swimmer. If your child has special needs, join our Treasures program. If you have a competitive swimmer, let us nurture that talent. If you are an adult, come swim with us!
Swimmers move through our tailored 12-week programs with our Hampton teachers who are selected for their positive, fun and nurturing natures, and trained in our unique Hampton teaching philosophies and methods. We look at each child as a whole. Parents can follow their child(ren)'s progress with our online portal and app.
We offer classes 7 days a week to ensure flexibility of scheduling to suit your changing needs. We offer great discounts for more frequent swimmers and families of three and more children. Have a look at which program suits your family best HERE and book your free trial!
Use our Find Your Level system below to help you decide, and book your classes directly online.
Find your level & book YOUR class online
OUR PARENTS SAY
Parent Testimonials
Parents form a great part of our swim
community and their child(ren)'s journey...
COMMUNITY EDUCATION
FREE Community Water Safety
Presentations aimed at Kindergarten and Prep aged children...