"Our fear was that our kids would forget their knowledge and lose confidence around the water"
On 29 June 2021 it is exactly a year since our swim school re-opened our doors and pools after the big COVID-19 lockdown! We were so happy to get back into it and see our swim families again. Some re-started a little later, others were back that very first day. We asked a few of these Hampton families what their experience was, coming out of the lockdown and jumping straight back into swimming lessons. Did they notice any regressions in their kids' swimming, how did they cope with those cooler temperatures, how important are swimming lessons to them?
Meet the Bugden family: Siobhan, Greg, Tilda & Brodie. They were one of the families who re-started on reopening day. Mum Siobhan tells their story.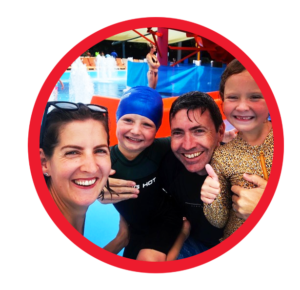 "Tilda and Brodie have been swimming since they were just a couple of months old, and the reason being was that we wanted them to be water savvy.  We knew that growing up in Australia, they were going to be around water almost constantly, so the importance of reducing the risks were high.  When COVID hit, Tilda was 7, and Brodie 4 so we had years of swimming at least once a week, to all of a sudden none, and no private pool to use. Our fear was that Tilda and Brodie would forget their knowledge and lose confidence around the water, should this go on for any length of time.  We desperately didn't want to waste the years of skill and confidence that they had accrued.  When swimming started back up again, we knew for certain two things: 1. The pool would be toasty warm so although the weather was cooler they wouldn't be cold, and 2. The COVID restrictions in place would be sufficient enough to keep us safe enough to resume."
Siobhan and Greg did notice the effect of being forced to stop swimming lessons during that COVID-19 lockdown. "Initially when we started back we noticed that some of the technique they had learned had been forgotten. It was a short time, but some of the skills learnt were still new, so had not been cemented yet, such as the roll to breath whilst doing certain strokes etcetera. But we did notice that once they started back, the teachers really put into action a concerted effort to correct things, and also to get them having fun in the pool again. Ultimately the goal is water safe, but the kids have to have fun, and they loved being back with their teachers and friends."
The family has learned a few tricks throughout the years to 'deal' with the cooler weather when it comes to swimming lessons. "We do understand that people worry about the cold weather, but over the years our tricks of hot water bottle towels, and dressing gowns straight away have enabled us to keep swimming during the colder months, and also means we don't have to repeat any skills from pausing lessons. The teachers have been awesome in getting our kids water safe and confident and I always sing the praises of Hampton, as they always listen to the concerns of parents and make adjusts where necessary. We can't ask for anything better."
A big thank you to the Bugden family for sharing their experience!