BabySteps Program Relaunch
At Hampton Swim School, we pride ourselves in being an industry leading swim school and we are constantly striving to deliver an exceptional swim program to our families.
We understand that every child is different. Every child has different levels of experience with water, has different confidence, nervousness, anxiety, and emotional and developmental needs.
Therefore, we are absolutely thrilled to announce the relaunch of our one-of-a-kind 'BabySteps' Swim Program, which we believe offers a swim level that is age and developmentally appropriate for every child in our community.
What is new?
11 levels tailored to children's ages and developmental stages – increasing our program to 11 levels allows any baby or child to be taught at a level that aligns with their age, but most importantly, with their stage of development, including their social and emotional development, gross and fine motor skills, and their ability to breath-hold.
'Focus points' per level – every level now features 13 'focus points', such as breath control, front work, rolling, and submersion, which are all age and developmentally appropriate. Our teachers explain the activities and share the 'why' with you during lessons to help increase understanding of the importance of the skills your children are learning.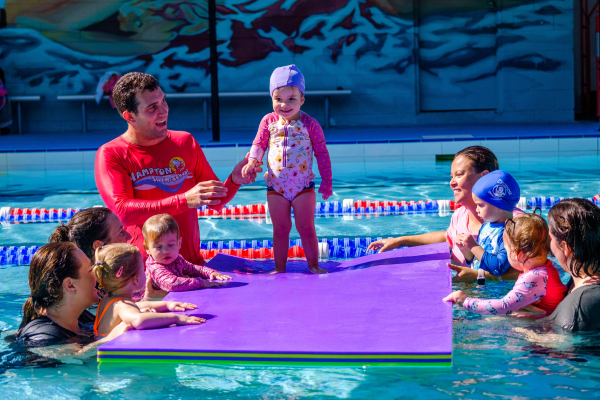 'Except for' activities – as we all know, even the most enthusiastic of water babies have their off days! So, every activity now has an "Except For" equivalent, as we respect your child's 'no', so if they are new to the program or simply having a bad day, our "Except For" activities allow them to continue to participate in the lesson, in a way they are comfortable.
Parents in the pool until child turns 3-years old– research shows that children under the age of 3-years benefit greatly from the connection of having their parent/guardian in the pool and building trust with their teacher. Our updated program means you can now stay in the pool with your child until they are over the age of 3-years, which is when they will graduate 'BabySteps' before progressing to our 'SwimSteps' Program.
For more information about our exciting new BabySteps Levels, please see below:
Starfish & Seahorse – reliant and ready to go! Classes are very much about supportive positions from parents for safety without being held and restricted and baby can feel their weight in the water, buoyancy, and understand more about their limitations and capabilities. They are attached and reliant on their carers for comfort, whilst developing reflexes, neck/core strength, rolling & sitting which we include in our activities.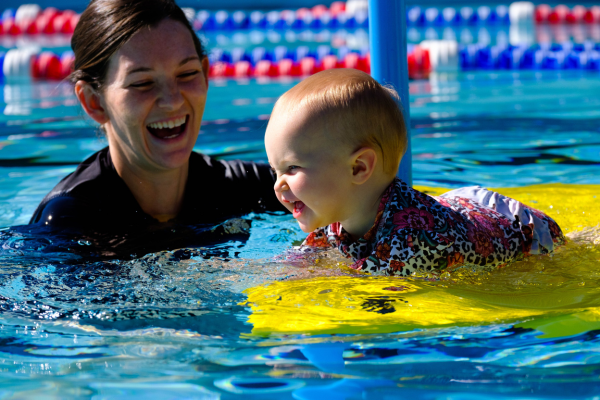 Jellyfish, Lobster & Urchin – independent and aware! These classes are all about exploring babies independence as they learn how to roll, crawl, walk, and run. They are increasing their independence and are understanding how to move their body, as well as looking at the world from horizontally to vertically. Understanding of words and language is also heightened in these age groups. For example, they recognised our cue, start to self- submerse, if we say reach up or hold on they are understanding the language to actions. To allow for their growing independence, our babies are feeling free float activities, let go submersions to get the full feeling of their muscles and changing balance.
Turtle, Hermit Crab & Otter – confident and exploratory! These toddlers are our high-risk groups, they are learning to wait and have tunnel vision. They are often confident "let me do it by myself' but not yet competent, especially if familiar with aquatic environments. We see increased movement and focus on spatial awareness and depth perception. Activities such as stop and go, wait, following instructions with language growth with reduced assistance. Learning to jump, fall, disorientation to recover, as this age group are often too fast on their feet and the tendency to fall off in different directions is high. They love songs and doing/following the actions.
Penguin, Prawn & Crocodile – growing and preparing! These swimmer's brains are interpreting the world relevant to them, and understanding cross pattern movements such as paddles, kicking, and recovering themselves for safety. We are heading towards a structured and gradual process of parents exiting the water after 3-years of age, as the swimmer has built a trusting relationship with their teacher. They begin doing more activities with their teacher, with minimal support and more independent swimming, as they move towards graduating and progressing to our 'SwimSteps' program.
The school holidays are fast approaching and now is the perfect time to get some more lessons in before the holidays! We are delighted to offer 50% off your second lesson a week in our BabySteps, SwimSteps and StrokeSteps classes – double their confidence for half the price!
To book, email enrol@hamptonswimschool.com.au or call us on 07 3399 2004.