Towel Robes (pre)order form 2023
WE HAVE NOW CLOSED OUR PRE-ORDER FORM. WE WILL OFFER ANOTHER OPPORTUNITY IN NOVEMBER.
To our valued Hampton families,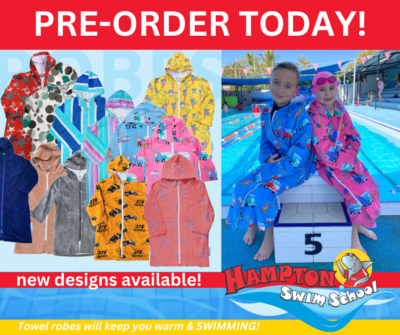 We are placing an order for towel robes to enable customers to choose a design (see image) in their required size.
These 100% COTTON TOWEL ROBES are the perfect accessory for swimming lessons as they quickly remove water from children's skin, dry, warm, and cover up all at the same time. Robes make lessons easier as aside from their swimmers, a robe is all a child needs to wear to keep warm and cosy before and after lessons, especially with the cooler months ahead. They are also UPF50+ with a full front zip.
Q / How does the pre-order work?
A / Simply fill out the order form below by Sunday the 23rd of April with your preferred design and size. You will then be invoiced via your Payrix details.
Q / How long does it take to receive my towel robe?
A / Orders are typically dispatched the day after orders are placed, so you can expect your towel robe to be at the pool within 2 lessons
If for any reason your chosen design isn't in stock, we will contact you for an alternate choice.