Parent Testimonials
Sarah & Isaac (1 year)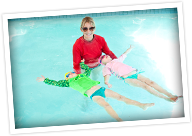 "My son Isaac has been swimming with Hampton Swim School for around a year and has really taken to the water!! He is extremely confident and happy in class and in our pool at home, and I believe this can be attributed to our fantastic teachers and the wonderful ways of Hampton' Swim School. I have recommended the swim school to many of my friends, family, even strangers in the park (!!) and will continue to do so. The friendly and professional manner of all the team at HSS, plus the awesome communication and variety of opportunities make it a great place to be a part of for kids and parents.
Isaac also attends TumbleTastics. It is so much fun to be with other kids and do activities that you often just don't have the materials or equipment for at home. With another baby on the way for us, I think that our family is going to be part of the HSS family for quite some time!! Thanks Hampton Swim School!"
---
Naomi & Bobby (2 ½ years) and Zara (8 months)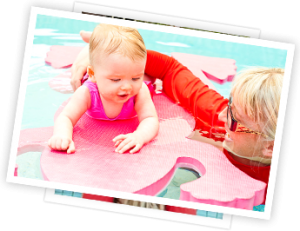 "I feared the water as a child and did not learn to swim until I was 11. To see the confidence that Bobby and Zara now have in the water brings me great joy. They always look forward to swimming, thanks to the outstanding efforts of Julia and her team. I am proud that my children are part of Hampton Swim School and recommend it to others."
---
Melanie & Benjamin (4 years)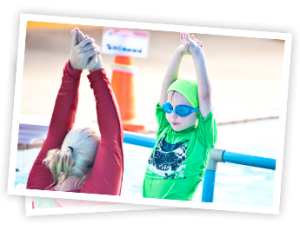 "The transformation I have seen in my son Benjamin over the last 2 terms, under your expert tuition, has been nothing short of a miracle.
Our story with HSS began earlier in the year, when I was standing fully clothed and dripping wet next to a friend's pool. I had just dragged Benji from the bottom of the pool after a floatation device had been knocked from his hands in boisterous play, and he had sunk to the bottom at a rate of knots. I told my friend how I was at my wit's end, as despite nearly 2 year of swimming lessons at another swim school, he was still generally terrified of the water, refused to put his head under and every lesson was a complete drama of crying and carrying on. She told me to try HSS, where her own children went.
This quarter, I watched my son being tipped, from an inflatable dinghy in the middle of the pool, during Swim Safer week. He then, unaided, swam to the side using his 'big arms' and laughed and chatted with his class mates. When we got into the car later he said "Mummy, when I can swim properly, can I still come here? Because I love it!"
I think I was the proudest Mum at the pool, and can hardly wipe the smile off my face. Thank you, thank you, from the bottom of my heart."
---
Chase (1 year)
"I just wanted to say a big thank you for a wonderful year of swimming and Tumbletastics. My son Chase has really enjoyed both sessions and I can see the developmental skills he has perfected through your programs.
Miss Bec and Mr Fletcher are both caring and knowledgeable teachers who show great patience with all the children (and parents!).
Chase was born prematurely and therefore doesn't have great lungs. I was initially worried he wouldn't cope well with swimming but he just loves it and hasn't had any issue keeping up with the other children.
The hospital developmental team recommended we join Tumbletastics to help Chase develop his developmental skills and catch up with the other children his age. I am so glad we took his advice as it has really helped with his crawling and standing abilities.
Thank you so much, keep up the good work!
Ps. Thanks for our little possum toy from Santa (and you), Chase just loves it!"